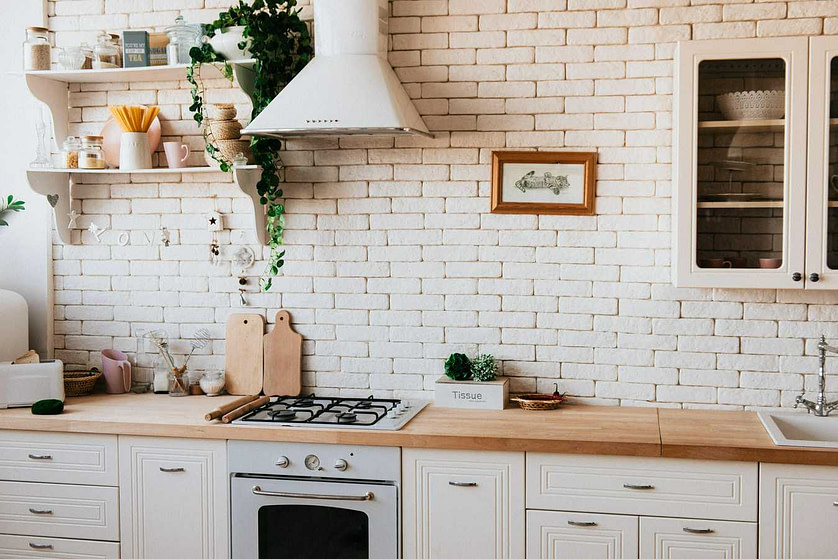 The kitchen has traditionally been a welcoming space where family and friends can gather over food. However, for most people, the kitchen has become a multifunctional space. It serves a multitude of different purposes. It has become a place to store, prepare, and cook food, a dining area, a place to entertain, a workspace, and a laundry, to name but a few. The look you decide on will be influenced by these factors when remodeling your kitchen. The available space will also inform the design choices.
Compact Design
There is minimum clutter in the design of compact kitchens. They also promote maximum efficiency. They aim to utilize the space available to the best effect. The design of compact kitchens ensures all the functions that a kitchen currently serves can be accommodated.
Some features are only included in a kitchen when there is a large area. They can now be incorporated into a lot smaller space. It is just a case of using the space more wisely. Careful consideration is given to each aspect of a compact kitchen. By manipulating the features are every inch of space is used to maximum benefit.
A common way of achieving this is to place a bank of cabinets along one wall. This opens up the space. Tall cabinets, in particular, can make the kitchen feel less cramped. Breakfast bars or islands need to be carefully designed. This is to ensure the dimensions are not overwhelming in the space on offer. They can, however, be used to accommodate the multi-functional aspects of a kitchen. This can be done by using the layer beneath them for additional storage space.
Shades of Red
What was once a daring color choice is fast becoming one of the most stylish kitchen colors. There are various shades of red, not all of them resembling the local fire engine. For example, when paired with neutral colors such as grey or cream, an elegant merlot shade of red can create a fantastic look without the red becoming overpowering.
Other ways of incorporating red into the color scheme without it becoming distracting include:
Using a muted red shade for the low level or island cabinetry
Decorating or painting the walls with a warming red
Using burgundy for a feature wall and island cabinetry to draw the color through. Pairing it with white appliances and painting the remaining walls white can add emphasis.
Creating a focal point with a vibrant red splashback
Choosing red countertops
Colors, in general, are becoming more popular when looking to remodel a kitchen. People are looking to move away from the traditional white cabinet look. This is a result of people spending more time indoors over the last 18 months. The brighter colors also help enhance moods.
Darker Surfaces
Another modern trend is to use darker colors for the kitchen's surfaces. It extends the trend toward two-tone kitchens, which have been popular over the last few years.
Offsetting dark countertops with lighter color furniture and brighter pops of color throughout the kitchen looks fantastic. It is also an excellent way to create a luxurious, sophisticated look that works in any size space.
Another option is to use black and dark grey shades on countertops, splashback, and floors in combination with textured woods. This makes the kitchen feel inviting while adding an element of rustic charm.
Open Shelving
Many modern kitchen designs are opting to incorporate open shelving into the design. In the past, homeowners have been reluctant to use open shelving due to the potential loss of storage space. The move toward decluttering the home and open shelving has seen its popularity soar.
There are several advantages to open shelving. First, it keeps the kitchen more functional by encouraging people to focus on keeping only the necessities in the kitchen. At the same time, it makes things a lot more accessible. This is compared to having them shut behind cabinets or in drawers.
Integrated Cabinetry
Integrated cabinetry is another extension of the move towards decluttering the home. Countertops that are free from clutter make the kitchen look clean and tidy and add sophistication. As a result, the cabinetry in kitchens is becoming less standardized. Instead, many homeowners are choosing to go down the customized path.
Seldomly used appliances on countertops can make the kitchen feel overcrowded. By removing them from sight, the kitchen takes on a sleeker, more modern appearance. Integrated cabinetry covers up the appliances, so the kitchen takes on a more uniform and streamlined appearance. Hiding the appliances from view creates this illusion.
Integrated cabinetry can be used for all appliances, from the refrigerator and microwave to the countertop appliances such as toasters and blenders.
Showcase Countertops
The materials and design of countertops are evolving. Homeowners are now looking to give their kitchen heart by using unique materials for the countertops. This could mean using dyed-marble or colored quartzite slabs to showcase a countertop.
Other options include using stone countertops with a particular vein running through them or other natural elements. These materials can be used as waterfall islands, give countertops a thick profile, or wrap around hoods.
Fluted Accents
Traditionally patterns or ornamentation have been used to add depth or texture when decorating the interiors of homes. The difficulty is that both of these options have the potential to date relatively quickly. Fluted accents are a way to add depth or texture. They reduce the risk of the kitchen becoming dated by the look.
Fluting is timeless and will give the kitchen an elegant, sophisticated look. Fluting adds an extra dimension to the kitchen. This is most evident if used in the cabinetry, splashback, or even the furniture.
However, as several experts point out, fluting must be precise. Therefore, properly planning the flute is essential. The spacing must be calculated so it is equal. This means there won't be issues when it comes to installation. The typical scenario is a half flute extra space between two doors due to inadequate planning.
Tile Splashbacks
Using the splashback is an excellent way to add color to a kitchen. Another way to use the splashback to make a style statement is to use tiles for the splashback area. Not only does it look great, but it adds some personality to your kitchen.
There are several choices when it comes to tiles. However, when using them for a splashback, consider:
Cement tiles look fantastic, but the downside is they do require a little maintenance to keep them looking good. The upside is the range of colors and designs that are available. They can be used to make a statement. For example, consider adding them to the range hood or the front of a kitchen island.
Metallic touches can bring an element of class to the kitchen, especially if you are a fan of a bit of bling. There are a number of different tiles with a metallic or glossy finish that can create this feeling in your kitchen. One combination that looks great is a marble tile with a brass accent.
Slabs, while not technically a tile, are another great modern option for the splashback. Marble, quartz, or stone are popular options. The countertops can be matched to the splashback to make a statement.
Subway tiles are a good way to make the kitchen look modern while giving it a color splash without costing a fortune.
Faucet Hardware
The faucet hardware can be used to make a subtle statement. Popular styles that give the kitchen a modern look include brushed brass, polished chrome, polished nickel, and matte black. These materials have the added advantage of creating sleek lines in the kitchen, which only adds to the modern feel.
For a truly modern feel that is also hygienic and safe, then touchless faucets are worth considering. In addition, this option will improve the kitchen lines even further.
Remodeling the kitchen often requires a reasonable investment of time and money. While it is always lovely to inject an element of personality into any room you are remodeling; a cautious approach is sometimes warranted. The choices you are making mustn't date quickly. This will impact the value of your home.
It is also important to remember that a kitchen needs to be functional. This means being smart with the space available. Finally, consider whether the choices you are making will work for you and your family.
Creating a modern and stylish kitchen doesn't need to cost a fortune. As the previously mentioned ideas suggest, a splash of color that is well placed or using a design that accentuates the space can result in a modern and stylish kitchen that will more than withstand the test of time. Contact us today for a free consultation.