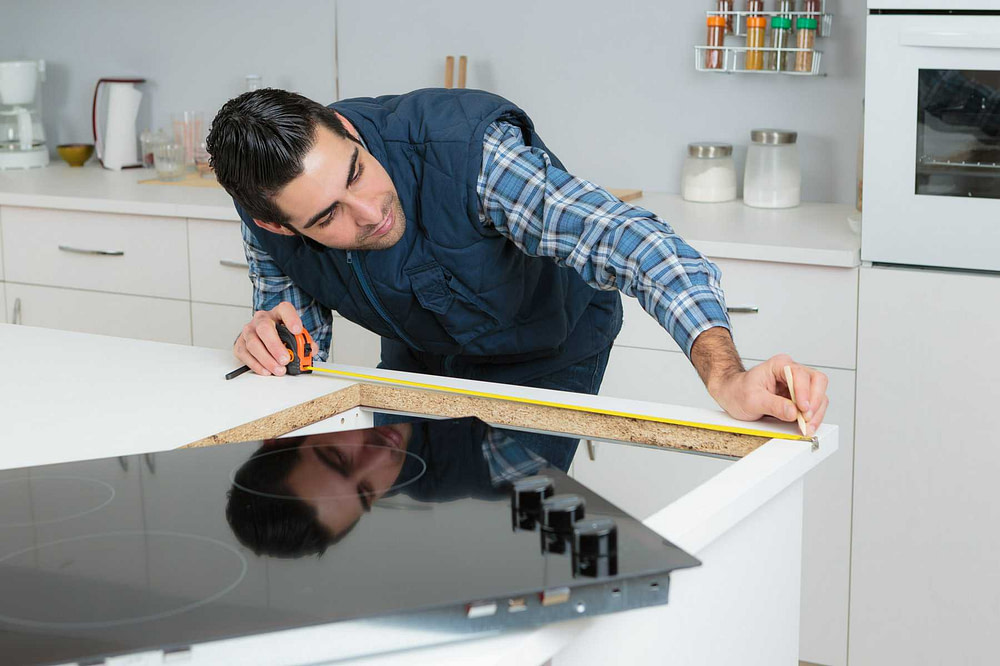 In 2020, kitchen remodels increased by nearly 40 percent compared to 2019. During this past year, the housing market has practically exploded. Kitchen remodeling is becoming a necessary element for selling points on a house. 
If you are thinking of home projects, you might be wondering about the average cost to remodel a kitchen. With the market and demand so high – it can be extremely beneficial for you to tackle a kitchen remodeling project.
Keep reading to learn more about how much it costs to remodel a kitchen and what you should look for in a remodeling project.
Kitchen Remodeling Ideas
Before addressing the cost of kitchen remodeling, it is beneficial to know what areas of the kitchen you want to remodel. To better understand that, you need to know what is trending right now and what is a good investment.
Putting the cost into labor and renovations can be pricey – having a good idea of what will help improve the resale value of your home makes all the difference.
First things first – upgrade that flooring. The floors are arguably one of the initial things people will notice. If you want something that will last a long time and hold its value then check out hardwood flooring.
If you want to do something a bit more unique then look at waterproof vinyl planks. It looks like hardwood while proving to be a bit more durable.
A kitchen island can make your kitchen appear larger and give more food preparation space. It also gives more room for sitting arrangements if you have guests over. If you are pressed for space in your kitchen, look into removing a wall and expanding your kitchen.
While it might cost more upfront – you will benefit from the addition of a kitchen island in the long run.
When you are looking at how to remodel a kitchen and wondering what designs to change, remember that white is in. White countertops or cabinets are a big hit right now and can easily improve your outdated kitchen.
There are many different countertop materials to choose from with lighter colors, so you will still have plenty of opportunities to provide a unique look to your kitchen.
Finally, glass backsplashes are the route to go right now – and you can find some cool subway tile features to add to your home.
Appliances and Storage
Storage space makes all the difference in a kitchen. A simple way to increase your storage space is to swap out your older cabinets for taller ones. Not only will you get a more modern look for your kitchen but you can add significant storage space to your area.
If you live in a home where someone has a difficult time reaching into the cabinet spaces, then you can add in a blind corner pull-out. Pantries are also vital to storage in a kitchen. If you deal with a small pantry, look into expansion options or different shelving to add more space.
Finally, appliances are the last touch to a kitchen that can add value and improve the resale of your house. With kitchen remodeling, sometimes it is easier to just add built-in appliances.
For most people, this looks the best. It can increase cost and require specific installation. Whichever option you choose, make sure that you stick with stainless steel appliances.
They look the best and most homeowners are seeking out stainless steel in today's marketplace.
Painting and Lighting
You can throw off the whole mood of a kitchen with a poor paint choice or lighting. If you have gone through the whole work of narrowing down what your kitchen remodeling project is going to consist of, don't tucker out once you get to the painting job.
Even if you only tackle a small project in the kitchen, new paint can give your home a fresh feel. When in doubt, stick with neutral or white colors. You can also get away with gray but make sure that it isn't too dark.
Along those lines, light fixtures also make a huge impact on kitchens. You can get a bit more unique with lighting. If you want to create a more cozy mood then you can place light fixtures under the cabinets.
Pendant lights are also fairly popular, especially over kitchen islands. These lights hang down and come in a variety of shapes, sizes, and colors. They can add a more modern tone to your kitchen.
Kitchen Remodeling Costs
So – what is the average cost to remodel a kitchen? This question is a bit tricky to answer as the average kitchen remodeling cost can vary by almost $20,000 depending on where you live.
Based on national averages, full kitchen remodels with midgrade materials and appliances cost around $66,000. If you want better or more expensive materials, then the cost can easily increase to above $130,000.
If those prices are making you wince, then keep in mind that smaller renovations can cost less than $10,000. You don't have to break the bank to make small changes to your kitchen that will add value and bring to life the kitchen of your dreams.
For example, if you choose hardwood flooring, then prices can increase to $5,000 for installation. Vinyl and ceramic flooring tend to be cheaper than hardwood with prices around $1,000 to $2,000.
What are the main things that increase the cost of kitchen remodeling? Usually, when people opt for marble or stone materials for the counters or choose luxury flooring the price will increase. Keep in mind, smaller items such as the faucet or sink can contribute to a rise in cost.
Make sure that you budget out your expenses beforehand so that you have an idea of what you can afford.
Cabinet Costs
Cabinets usually contribute the most to the cost of a kitchen remodel. If you are flexible on your budget then you don't have to worry. However, be mindful that if you want to save money then you might have to sacrifice certain materials or cabinetry.
The average cost of installing new kitchen cabinets can range from a couple of thousand dollars to $4,500. If you choose granite or quartz, then the cost rises from approximately $50 to $100 per square foot. Ceramic is one of the cheapest options at $5 to $10 per square foot.
Custom cabinets are going to cost more and while they might look nicer – you could eat up most of your budget with that move alone. Cabinets encompass the majority of your kitchen space so it is important that you talk to a reliable and professional team on the ideal cabinets for your space within an affordable price range.
Other Costs
While you have an idea of how much major reconstruction can cost, there are plenty of tedious details that may have skipped your notice. For instance, the average cost for electrical work is around $2,500 to $4,800. If you are doing a major kitchen remodel, this will likely be necessary.
Additionally, you will usually need a plumber which can cost around $5,000 on average. Permits alone can rapidly increase to almost $1,000. Any customized appliances will also bump up the price to $10,000 or more.
Hire the Professional
With that in mind, it is often helpful for people to sit down with a kitchen remodeling and design team to look at your ideas and for you to hear their suggestions. Why is this necessary?
Completing a kitchen remodeling project takes time, skill, and expertise. It can also require permits and specialized equipment. While some projects you might be able to tackle on your own – a professional team will ensure that everything is up to code and that your new kitchen won't result in issues down the road.
A remodeling team will also be able to price their own projects and give you a good estimate of what their materials cost. You will likely achieve a better cost rather than shopping through multiple people on your own.
Additionally, you will save yourself the time and hassle of trying to hire out multiple contractors or doing it yourself. With such a high demand on the housing market right now – it is crucial that you reach out to a trusted and professional service so that you can start on your project right away.
Many of these services provide more than just kitchen remodels. If you are also wanting to address that old bathroom that guests always use – then a skilled team can complete multiple projects in your home.
This will reduce the time you spend trying to do independent renovations and you'll be guaranteed quality services and renovations.
Upgrade Your Home
A kitchen can bring your home to life and provide increased value. Whether you want a newer kitchen to enjoy hanging out in with the family, or to improve the resale value of your house – kitchen remodeling is the route to go.
For all of your kitchen remodeling needs – check out our services to get the best prices for quality materials and installation from our professional team.