Home Remodeling & Renovation: Mudrooms
Nothing makes a parents happier than a clean and organized home. With everyone's busy schedules, a home can easily become disorganized chaos. A mudroom is a dream for anyone wanting to keep their home clean and inviting! There are many ways to build & design a mudroom. We love creating new mudrooms that are customized to each families specific needs.
We've complied the following mudrooms to spark your creativity. Take a look below!

Mudroom Design in Basement -Northern Virginia
Mudrooms are not restricted to just the entryway of a house. They can also be custom made in back kitchen entries or basement entries. The one pictured above is a mudroom in a basement! We especially love the open caddie design. The very unique light fixtures really complement the nautical feel of this mudroom.

Mudroom Design in Kitchen Entrance – Maryland
Compared to the first mudroom, this one has a very different structure. The enclosed cabinets instantly create an elegant look. These provide privacy and is a frequent pick among homeowners. This mudroom also included overhead caddies for more organization.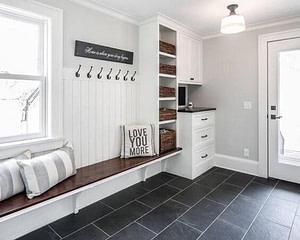 Mudroom Design in Entryway – Washington D.C.
As shown above, this mudroom has a modern touch. We love this brick pattern ceramic floor! With tiny feet running in and out of the house, ceramic floors make for much easier cleaning. The signature long bench creates a welcoming transition into the home. Is there anything more inviting?
Contact Us Today!
Ready to create a mudroom out of your home today? We can help. Here at Cyrus Construction we have professionals on our team that have 10, 15 to 20 plus years working in their fields of expertise. We specialize in home additions, kitchen renovation & basement finishing and remodeling. For all your home renovation needs, contact us anytime! We offer free in home consultations to layout detail by detail what we can do to take that project you have in mind and make it a reality. You can reach us by phone at 703-273-8888 or cs@cyrus-construction.com