Support beams and metal poles are a necessity for your house's foundation, but they're right in the middle of our basements, they're unsightly and hard to decorate around. We have made a list of ways you can hide and use support beams to your advantage in your finished basement!
This basement finishing project in Arlington Virginia looks incredible, the support beams are concealed under beautifully built stone columns. The stone columns compliment the aesthetic of the basement, with its abundance of natural features. Even the colors of the stone column tie into the overall theme of the basement.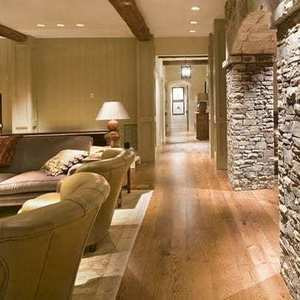 The homeowners of this beautiful home decided to recycle old porch supports and use them to cover the support beams in their basement. This turns out great for so many reasons.
For starters, hooray for saving money and saving the environment by recycling these posts for good. The posts themselves have so much character and history by their naturally degraded and rugged look. The posts look very purposeful, standing firmly almost like a grand entrance to the area. All really tying into the whole rustic Roman countryside look.
Style & function, nothing better. We absolutely love how this project turned out, turning support beams into a bar is a great idea.
Basements are great for entertaining so bar tops like this can make your basement everyone's favorite place to visit. The hanging light fixtures add a more coffee house feel so this bar top can definitely be doubled as a great study area!
This has to be our favorite most creative way to disguise support poles in basements and put them to good use! This basement homeowner in Great Falls, VA decided to turn them into wood plank bookshelves, an awesome way to design any basement for any book-loving family. Give us a call today! We would love to transform your used basement, remodel or restore it into a work of art.